This Week's Program
ZACK GRAGE Thomasville High School Head Football Coach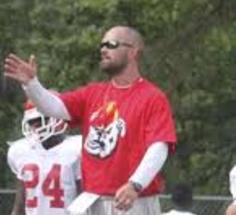 Grage is in his 4th year as Head Football coach for Thomasville High; School. He spent 2015 as the Head Football Coach for the Gilmer Bobcats in Ellijay, GA. He was at Colquitt County High School in Moultrie from 2009 to 2014. During his tenure in Moultrie, the Packers reached at least the semi-finals every year, and also set the state record for points scored in the highest classification in 2014.
Grage grew up in Clayton, Indiana and earned his Bachelor's Degree in Mathematics at the University of Evansville (IN). He went on to earn his Masters in Kinesiology from Georgia Southern University, and Educational Specialist in Teacher Leadership from Georgia Southwestern State University. Grage and his wife, Mandy, have three boys: Noah, Daniel and Luke.

"Little Free Libraries"
We are ready to move forward in refurbishing and restocking the communities "Little Free Libraries." Please help with this worthy cause by donating good used (or new) books to restock these little libraries. You can bring your books to Thursday meetings, and we'd collect them at a table at the back of the room.
Hands On Thomas County Sign Up
Join HOTC, and more than 1400 of your friends and neighbors for the 16th Annual HOTC Day. Lend a hand at one of 60+ project sites on this giant day of collective community service benefiting local non-profit and community agencies in Thomas County!
As a thank you, all volunteers receive a HOTC t-shirt and lunch, but most importantly, the rewards of doing good for others. Thank you!
Volunteer registration opens September 1!

October 19, 2019 | 9:00 AM – 2:00 PM
Upcoming Events
September 3 Wine or Whine Backroom of Relish beginning at 5:30

September 10 Fireside Chat Open to all Rotarians. New Rotarians...counts toward your Red Ribbon. Join us for fellowship and learn about the opportunities in Rotary.

September 21 Dinner on the Bricks We have a table. If you are interested in attending, please let us know.

October 3 GRSP Reception 5:30 - 7:30 Come meet our newest GRSP student!

Hospice and Palliative Care: What's the Difference?
Last week we had an interesting presentation from the Palliative Care and Hospice of Southwest Georgia discussing the opportunities for support for those diagnosed with serious illnesses.
Palliative Care primarily focuses on improving the quality of life, while working along side specialists during treatment, assisting in explaining options for treatment, etc. They focus on symptom management, education, discuss advanced care planning and help with hospice transition as appropriate. You do not have to be diagnosed with a terminal condition to take advantage of Palliative Care.
Hospice typically assist with end of life issues for the patient as well as family and care givers. Hospice of Southwest Georgia serves six counties with staff located in each area. Focus is again on quality of life (physical, mental and spiritual) for those with terminal illnesses. They also offer bereavement support for 13 months for family after the death of their loved one. At this point, hospice is home-based care. However, Archbold is in the process of building and in-patient hospice center.